Software Update - Scan Instructions
You will need a blank USB drive to transfer software to your Uconnect® system.

To identify the software update for your Uconnect system, please follow the instructions below
RHB Customers only: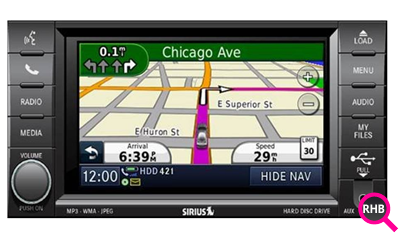 If you are using Windows 10 or a Mac Operating System, please follow these steps first:
1
After formatting your USB to FAT32, create a new folder labeled Garmin
For instructions on how to format and prepare a USB drive, click here
2
Within the Garmin folder, create a new text document (.txt) named Garmin.txt
3
The Garmin.txt document should remain blank
If your RHB navigation system is currently below v5.19 software, a two-step update process will be required. First the upgrade to v5.19, followed by an additional update to the most current available software.
Please note upon completion of your v5.19 software update, a re-write of the Garmin navigation data (garmindevice.xml) file is needed to communicate with Garmin Express for your second software update. Instructions below should be followed a second time to re-write this data.
| | | |
| --- | --- | --- |
| 1 | On your Uconnect system, press the Nav icon. | |
| | | |
| 2 | Press Settings. | |
| | | |
| 3 | Press Map. | |
| | | |
| 4 | Press Menu Bars (located in the upper left corner of the screen). | |
| | | |
| 5 | Press Update Map. | |
| | | |
| 6 | Insert USB drive into your vehicle's USB port. The vehicle will automatically recognize the USB drive. | |
| 7 | The navigation map data and software level will automatically load to the USB drive. | |
| 8 | When prompted, remove the USB drive from the vehicle's USB port. | |
| 9 | Insert USB drive into your computer and install/launch Garmin Express. Follow the prompts in Garmin Express to download the software update(s). | |